A Sermon by Rev. Felipe Ehican, Jr. during the Closing Worship Service
of the National Council of Churches in the Philippines 25th General Convention
on November 28, 2019 at Trinity Lutheran Church, Quezon City, South Luzon District
---
Theme: "Beware of Defilement"
Text: Mark 7:14-21.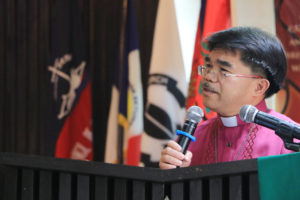 Grace and peace be yours in abundance in the knowledge of God and of Jesus our Lord. Dear Christian friends. Amen!
Jesus Christ stand central in the faith of Christendom. The early Church were held together by their faith in Christ. What a complex group it was. These early Christians represented different nationalities with languages, and traditions with different types of organizations. There were the foolish and fickle Galatians, there were the wayward Romans, there were the unpredictable Thessalonians, there were the divided Corinthians, there were the warm hearted Philippians, etc. Yet all these differing groups with their different patterns were held together in one great fellowship because of their common calling as herald of the Gospel of the Lord Jesus.
Here we are gathered as people of God. In the past few days we have talk about the abuses and evils we are facing in our society today. We have made some actions through resolutions with the prayer that we will triumph and overcome. However, our actions are only addressing the surface because the root cause of all the problems we are facing in the Church and society is sin and Satan. God has given us his Word to destroy sin and all kinds of evil.
In Jesus' day there was a religious group of people called the Pharisees. These Pharisees were not much concerned with the spiritual condition of the heart because no one could look into it anyway. Instead they stress so much on outward things which people did notice such as civic righteousness and ceremonial laws of the Church.
They bathed and washed their clothes to counteract a ceremonial defilement. They abstained from eating foods which were considered unclean. They washed or sprinkled themselves on returning home from the marketplace. They would not eat without first washing their hands, lest they should defile their body by eating something considered unclean. They stressed so much on outward things.
Jesus knows what the problem is. He recognized the fact that the regulated observance of outward cleanliness and adherence to ceremony on the part of the Pharisees received the wrong emphasis. That's why they were offended when Jesus said: "Not that which goeth into the mouth that defiles a man but what comes out of his mouth that defiles a man."
God always sees more than what the eyes can see. He searches the heart and understands all the imaginations of the thoughts.
From the Book of Genesis its says: "The imagination of man's heart is evil from his youth. The fact that many people do not realize the sinful condition of their heart or will not admit it, does not alter the fact. Scripture says: "I was shapen in iniquity and in sin did my mother conceive me."
In many respects the Pharisees reminds us of the social gospel advocates of our day who think that man is basically good and that there is nothing wrong with his heart. Others say that the heart is basically neither good nor evil. They maintain that if a man lives in a good environment, his deeds will be good but if he lives an evil environment his deed will be evil.
Such reasoning ignores sin in which everyone is born. Man need not be exposed to sin before he becomes capable of doing it. His wicked heart enables him to plan and execute evil schemes without any outside help.
Cain did not need help to kill his brother Abel. Both were sons of Adam and Eve. They lived in the same environment and enjoyed the same advantages. His sin did not originate somewhere outside him but deep down in his sinful heart. The difference between the two brothers was that one by God's grace had learned to rule over the passion of his heart while the other permitted them to rule over him. Many a person, after pondering on the crime committed by Cain, has said: "Thank God, I'm not like him." By nature, after the fall, however, our heart is no better. It is just as sinful and corrupt. The Prophet Jeremiah says: "The heart is deceitful above all things and desperately wicked; who can know it?" Therefore watch our hearts!
Our text is not merely describing the wicked hearts of men such as Cain and Judas Escariote. This is a description of our hearts too. Jesus means, everyone born into this world when he says: Out of the heart proceeds evil thoughts, murders, adulteries, fornications, thefts, false witness, blasphemies."
Sin is a worldwide problem. It is the cause of strife, rivalries, jealousies, fraud, suspicion, hate, killings, slander, greed and the like which destroys man's relationship with his neighbor, and with God. That's why Joseph was sold into slavery by his own brothers. Most serious of all is the breach which sin created between man and his God. Just as Adam and Eve hid from God in Eden and made excuse for themselves, so men try to evade God when confronted with the truth and try to justify their sinful conduct. But the fact remains that sin brought God's curse down upon all men. For all have sinned and fall short of the glory of God.
Familiar to us is God's terrible words: "The wages of sin is death….". The soul that sinneth, it shall die!" Curse is everyone that continueth not in all things written in the book of the Law to do them?" Wretched man that I am. Who will deliver from this body of death? Says Paul.
What can we do about our sinful hearts? How can it be changed? Who can help us? Since there is not a just man upon earth that doeth good and sinneth not, since we are all as an unclean thing, and our righteousness are as filthy rags, we cannot depend on men and ourselves for a solution. But God can. God has done something about it. He has the solution. The solution is Jesus Christ, and apart from him we can do nothing. God from eternity recognized the problem and made a solution through the atoning sacrifice of His Son which was accomplished in due time 2,000 years ago by his death on the cross. This precious Gospel of redemption revealed to humankind from the very beginning. He told the parents of the human race that Christ, the woman's seed, would bruise the serpent's head.
He spoke of redemption as an accomplished fact when he said through the prophet Isaiah: " Surely He hath borne our grief and carried our sorrows yet we did esteem him stricken, smitten of God and afflicted. But he was wounded for our transgression. He was bruised for our iniquities, the chastisement of our peace was upon him and with his stripes we are healed. He shed his blood and died on the cross as a sacrifice for the sins of the whole world. He died for all. The cross is the highest expression of God's love. Through his love he conquered the world, sin and the devil. There never was love like this.
Humankind with all their sin and pride does not want redemption of Christ. The blood of a Pharisee flows in our hearts. For this reason the work of the Holy Spirit is of an utmost importance. He shows us that we cannot by our own strength keep the Law and that our only hope is Christ who kept the Law for us. He calls all to repentance. He holds out the repentant sinners the promise: Though your sins be as scarlet, they shall be as white as snow; though they be like crimson, they shall be as wool."
By God's grace we believe and put our trust in those Gospel promises. As people born again by water and the Spirit, we realize that it's not what we eat or drink or any outward ceremony that can cleanse our hearts but solely by the precious blood of Christ. In faith we received forgiveness as a gift of God's grace. In addition to the Word, God has given us the sacraments as instituted by Christ. They also are means of grace because in them God's grace in the redeeming blood of Jesus is offered and conveyed.
What is our response. "What shall I render unto the Lord for all his benefits toward me? (Ps. 116:12). Our cleansed hearts would response in good works, the fruits of faith. We can express our love and thanks to our Savior for cleansing us from sin and making us acceptable in God's sight. With the Holy Spirit's help we can be faithful witnesses of the Savior's redeeming love. We can be good Samaritans for the Savior in the homes of those who are in need or distress. We can be good citizens and as a Church produce good people that we may triumph against evil. "The triumph of evil is when good men do nothing" by Edmund Burke. .
And so we pray with the Psalmist: "Create in me a clean heart, Oh, God and renew a right spirit within me." May we face the future with faith, with courage, with hope and with hope. With the help of the Holy Spirit we can learn to place our hearts in the service of the Lord Jesus who redeemed our life from destruction and rose from the dead that also we might live with Him in heavenly glory. King Asa who reigned Judah for 41 years was by no means a perfect ruler but he was a believer of God and that's why Scripture pays him this tribute that says: King Asa's heart was perfect with the Lord all his days (1 Kings 15:14).
Meanwhile, God bless you. Amen!