A Bible Study by Rev. Ariel Cerdeñola
during the Philippine Lutheran Youth League National Youth Camp Berea on
October 31 – November 3, 2019 at Living Hope Camp, La Trinidad, Benguet
---
Blessed Lord who has caused all holy Scriptures to be written for our learning: Grant us so to hear them, mark, learn and inwardly digest them, that we may embrace and hold fast the blessed hope of everlasting life , which you have given us in our Saviour Jesus Christ, who lives and reigns with you and the Holy Spirit one God now and forever. Amen.
REMEMBER THE SABBATH DAY BY KEEPING IT HOLY.
What does it mean? We should fear and love God so that we do not despise preaching and His Word, but hold it sacred and gladly hear and learn it.
WHAT DOES GOD REQUIRE OF US IN THE THIRD COMMANDMENT?
We should hold preaching and the Word of God sacred.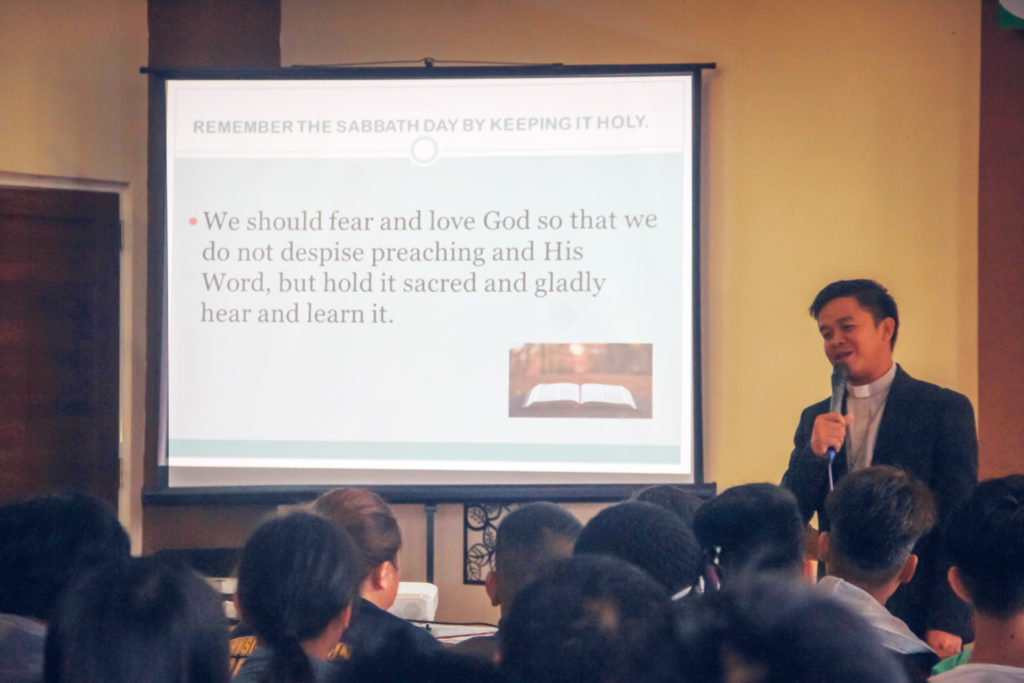 When you receive the Word of God, which you have heard from us , you accepted it not as a word of man but as  it actually is, the word of God, which is at work in you who believe. 1 Thessalonians 2:13
I am not ashamed of the Gospel for it is the power of God for the salvation of everyone who believes; first to the Jew then for the Gentile. Romans 1:16
The Lutheran Confessions, therefore, state: "We believe, teach, and confess that the sole rule and Standard according to which all dogmas together with all teachers should be estimated and judged are the prophetic and apostolic Scriptures of the Old and of the New Testament alone"  (Triglot, p. 777)
PURPOSE OF THE BIBLE
The purpose of the Bible is to make us wise unto salvation through faith in Christ Jesus. John 17:3
It is to train men to live in godliness and holiness. It is to magnify the glory of God. 2 Timothy 3:16-17
It is to magnify the glory of God.
Hebrews 4:12 – for the Word of God is living and active, sharper than any double edged sword it penetrates even to dividing soul and spirit, joints an marrow; it judges the thoughts and attitudes of the heart.
ATTRIBUTES OF THE BIBLE
AUTHORITATIVE- creates, sustains and guide.
SUFFICIENT – everything we need for faith.
CLEAR- illuminates itself.
EFFICACIOUS – living- accomplishes that which it commands.
We should gladly hear it, learn it and meditate on it.
HEARING/LISTENING THE WORD OF GOD – We should hear the Word of God.
Mary sat at the feet of Jesus and learned at His Word. Luke 10:39
"Blessed are they that hear the Word of God and keep it" Luke 11:28
"Hear ye Him," says God of His Son. Matthew 17:5
"He that heareth you, heareth Me," says Christ to His disciples. Luke 10:16
LEARNING THE WORD OF GOD
We should read and study the Word of God. "Search the Scriptures" John 5:39. This is not to be a heedless but an attentive reading, which endeavors to grasp and to retain in the mind what we read.
"Whoso readeth, let him understand" Matthew 24:15.
Jesus gladly heard and learned the Word of God . Luke 2:41-52
Acts 17:11 The Berean's search the scriptures daily.
THINGS TO CONSIDER IN READING THE BIBLE
DATE
AUTHOR
TO WHOM/AUDIENCE
PLACE
CONTEXT/SETTING- before & after the text
PURPOSE OF THE BOOK/TEXT
ORIGINAL TRANSLATION
PARALLEL PASSAGES
TRANSLATIONS –RSV,NIV,ESV,KJV…
Let the bible interpret itself.
Distinguish the law and gospel.
Where is Christ.
There is a promise and fulfillment.
Past, Present and Future
Ask your Pastor
MEDITATING THE WORD OF GOD
We are to meditate on what we have learned.
"This book of the law shall not depart out of thy mouth; but thou shalt meditate therein day and night" Joshua 1:8.
But his delight is in the law of the Lord, and on his law he meditates day and night. Psalm. 1:2
"These words which I command thee this day, shall be in thine heart" Deut. 6:6.
I love the house where You live, O Lord the place where your glory dwells. Psalm 26:8
"Mary kept all these things, and pondered them in her heart" Luke 2:19.
They devoted themselves to the apostles teaching and to the fellowship , to the breaking of bread and to prayer. Acts 2:42
It is by means of such meditation on our part that the meaning of Scripture texts and truths unfolds itself more fully to our minds and sinks deeper into our hearts.
OBSERVING THE WORD OF GOD
We are to observe the Word of God in our lives.
"That thou mayest observe to do according to all that is written therein" Joshua 1:8.
"Teaching them to observe all things whatsoever I have commanded you" Matt. 28:20.
We are to learn the Scriptures not merely to know them intellectually, but to make practical use of their teachings both in our hearts and in our lives.
TEACHING THE WORD OF GOD
We are to teach the Word of God to others.
"Thou shalt teach them diligently unto thy children" Deuteronomy 6:7; Psalm 78:5
"Preach the Gospel to every creature" Mark 16:15
Those that have and know the truth of God should teach those that have it not and know it not. Colossians 4:16
We should honor and support the preaching and teaching of the Word of God.
Anyone  who  receives  instruction  in  the  word  must  share  all  good  things  with  his instructor. Do not be deceived: God cannot be mocked. A man reaps what he sows. Galatians 6:6-7
The poor widow gave money for the upkeep of the temple and for the support of the priests. Mark 12:41-44
"Jesus  loves  me  this  I  know,  For  the  bible  tells  me  so,  little  ones  to  Him  belong,  They  are  weak  but  He  is strong." Read your bible pray everyday and you grow , grow , grow.
Works Cited

KJV. (n.d.). Bible .

Koehler, A. (1952). Summary of Christian Doctrine. In A. Koehler. Luther, M. (n.d.). LUTHER'S SMALL CATECHISM.

Triglot. (n.d.).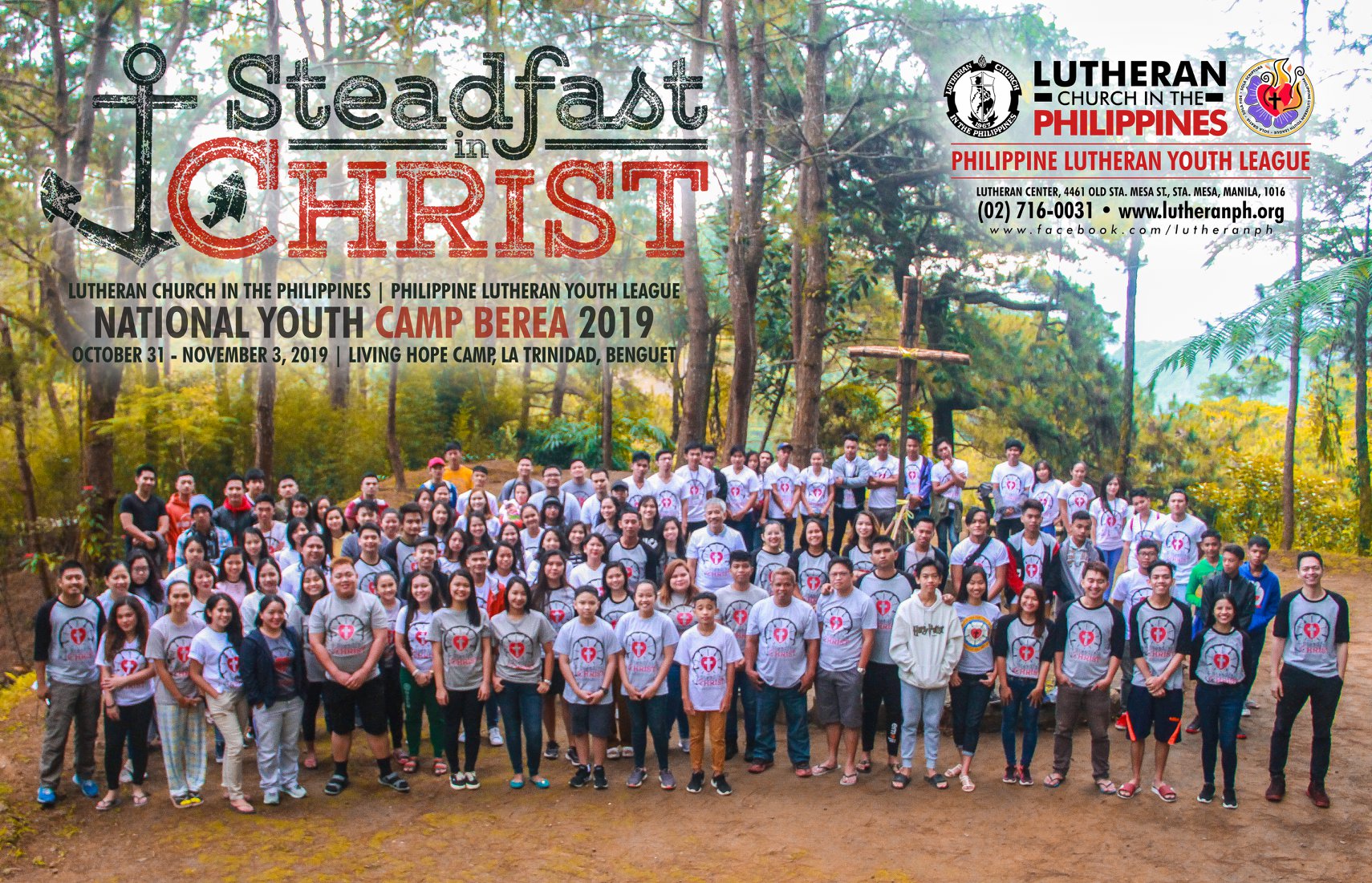 ---
Photos by Apollos Domingo / NLLD during the Philippine Lutheran Youth League National Youth Camp Berea on October 31 – November 3, 2019 at Living Hope Camp, La Trinidad, Benguet.